Description
Amazing Style, Quality & Low Energy Use Designer Ceiling Fan
The Zephyr Propeller is a variation of the original Henley Zephyr and was launched in 2018.  It has a more pronounced propeller type blade that doesn't bend upwards towards the tips and enjoys a smooth continuous curve from blade-to-blade without any apex at the motor that looks truly amazing.  The shape means a slightly lower amount of air movement but it still has the same amazing low-energy brushless EMC DC motor.  This model is also a bit more expensive due to the shape, the finishes and smaller production runs and so is only available in the 60″/152cm size. The Zephyr name comes from the Greek god Zephyrus, who was god of the west wind, bringer of the light and early spring breezes.
The Zephyr Propeller is our own brand fan which means we can offer a great value fan that would normally cost over £1000 for around £650. It is beautifully styled on an early plane propeller but without the noise! It is an exceptionally high quality ceiling fan made in Taiwan by one of the best manufacturers globally who have been making ceiling fans for the top global brands over the last 40 years.  It is one of the few high-end fan manufacturers that still remain in Taiwan, the rest having moved to China 10-15 years ago with lower costs and also lower quality.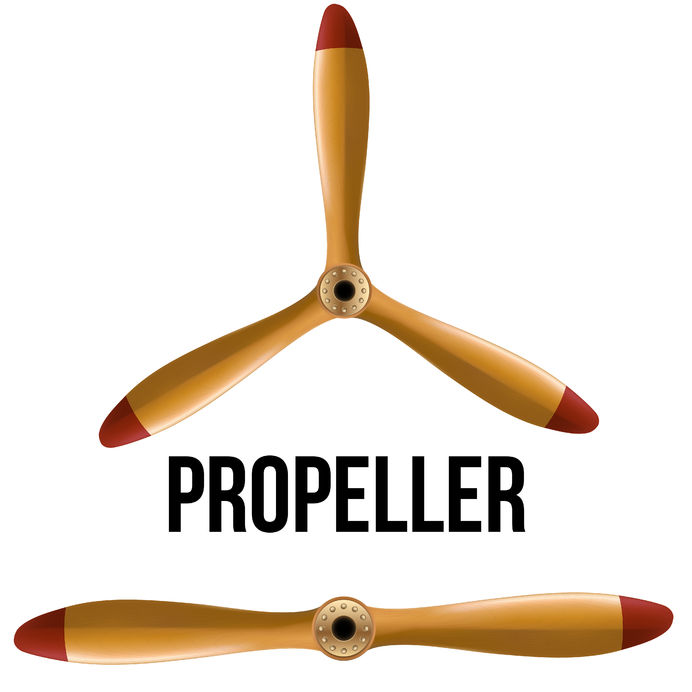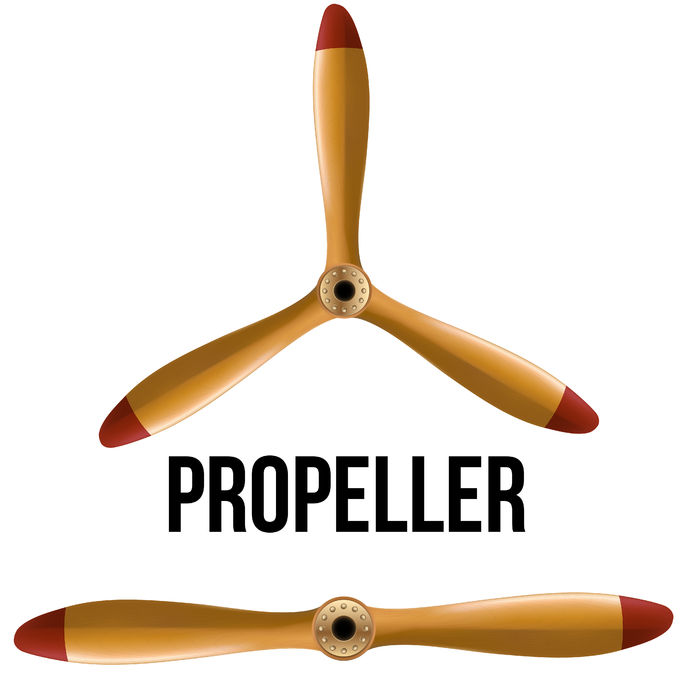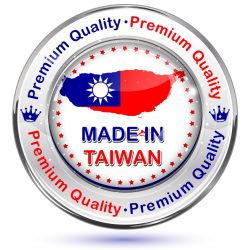 It is perfect for restaurants, theatres, halls, seaside condos, outside, large rooms or common areas where large coverage is needed and can easily be achieved with its powerful ultra-low energy airflow.  It is in fact totally silent and so perfect for bedrooms where every sound is amplified in the still of the night and we have supplied them to a number of top hotels including the Voyager Resort in Bodrum, Turkey (see pics) for their bedrooms.
Electronically Commutated Motor
At the heart of the Zephyr fan is the electronically commutated motor (EC/ECM) which takes the best of the AC and DC motors.  It runs on an AC supply and has permanent magnets switching the voltage to DC as with a DC fan but the commutation (current direction switching to generate movement) is achieved by electronic means rather than the mechanical of traditional AC and the newer DC motors which both use brushes in contact with the rotor instead.  This makes for a highly efficient motor in a class of its own which wastes less energy resulting in less heat and noise.  Energy savings over an AC motor are up to 70% for the same performance. Consequently, there are no annoying buzzes, hums, clicks or wobbles and the precise speed control possible with DC motors results in much longer service and reliability.
Smooth Airflow Operation
Something that is often forgotten about on high performance ceiling fans is the way the air flows and the noise created.  With a high performance fan the airflow can be either laminar or turbulent.  Smooth laminar flow is far more pleasant on the eyes and skin as well as more efficient compared to uncomfortable turbulent buffeting airflow.  This is made possible by the slow moving blade rotation,  balanced motors and blades, and having the lowest speed of all our models at just 65 rpm.  This is the nirvana of airflow characteristics – a slow gentle stirring action which is nevertheless powerful.
Solid Wooden Blades Construction
The blades are CNC machine-carved from Firmiana Simplex hardwood, commonly called the Chinese Parasol Tree which is light and strong similar to balsa.  Firmiana is used for making furniture and musical instruments and is fast growing in sustainable forests and the blades are hand-finished and balanced to perfection with a resilient painted finish.  It is a very strong and warp-proof hardwood but also very lightweight. The motor and finish are damp location approved for salty or humid environments such as by the sea. With this fan you can just relax and experience the spring breeze without any of the fuss or distraction from the fan itself.
Low Noise Silent Performance
The Zephyr Propeller has been tested with noise measurements conducted at the German VDE testing and certification institute in Offenbach. The lower limit for the laboratory measurement is 32 dB(A) for the sound power LW and 15 dB(A) for the sound pressure LP at 3m away.  Since many ceiling fans are published on the market with one or the other value, we state the measured noise values both as sound power LW and as sound pressure LP 3m.  Results for the Zephyr LED lab testing are :
Speed 1  LP <15 dB (ie below the lower limit)
Speed 6  LP 20 dB
Speed 1  LW <32 dB  (ie below the lower limit)
Speed 6  LW 40 dB
Interpretation: The decibel range is a logarithmic so a 20 dB sound is 10 times louder than a 10 dB sound. The level of noise in a quiet bedroom, 30 dB, is 100 times louder than 10 dB. And 40 dB is 1,000 times louder than 10 dB.  So this fan is the quietest on the market with the sound being imperceptible being below the lower measurable limits at low speed and just above a normal quiet bedroom at maximum speed.  Speed 1-2 is perfect for sleeping in as it creates the required air movement which is gentle but will provide cooling and freshness and draw in cool air though a window with absolute silence.
Quality That Counts – Lifetime Motor Warranty

The Zephyr Propeller comes with a 2.4G wi fi 6-speed remote control that gives flexible setup for pairing one or more fans to one remote.  The fan is totally quiet, very efficient and extremely reliable. Each motor is hand-tested on all speeds in the factory.  The stylish design with the hidden slimline very compact motor make this model very popular in many countries where it is sold under different brand names but usually with only a 10 year warranty.  We have increased the specification and hence can offer it with a Lifetime Motor Warranty. This is without doubt one of the best quality, best value, best looking ceiling fans that we sell.
Variations of the Zephyr Propeller are taking the world by storm and it has proved to be very popular in Asia, the Middle East and USA.  Now we have made it available to the 240 volt market and our customers just love them.  Why settle for anything less? Just compare the quality, design, reliability and performance with other fans for this price.  It is a choice you will never regret as you enjoy years of pleasure!
Zephyr Propeller Ceiling Fan Finishes & Sizes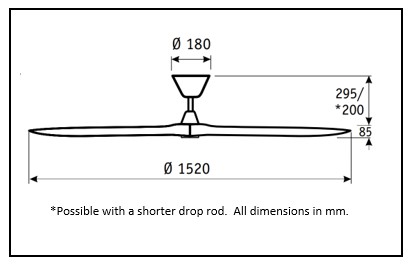 The Zephyr Propeller is available in the following finishes for both the housing and blades.
Matching housing canopy, drop rod and cover plate metal finishes – Brushed chrome, matt black lacquer, matt white lacquer and brushed brass.
Blade size – Medium 60″/152cm diameter blade sweep
Propeller blade finishes – Oak grey wash, light wood, matt black, matt white, brushed white. NB: The style of the brushed white finish is to show the grain with a  slightly "rough sawn" finish.  If you require a smooth finish then go for the white lacquer or the regular Zephyr fan.
Longer drop rods – Available in 24″/61cm and 40″/100cm in all motor finishes – see separate listing here.

Propeller Features & BenefitsBeautiful stunning style and finish with great choice of finishes.
Hidden slimline compact high-efficiency low-energy EC/DC brushless inverter driven, patented motor.
Breeze assured – 100% laminar flow from slow rpm with no uncomfortable turbulent airflow.
Totally silent, compact and powerful brushless EMC motor with no airflow noise – perfect for bedrooms where you hear every tiny noise.
3 Non-warp solid strong hardwood finger-jointed milled and hand-balanced blades to within 5 g tolerance with a painted finish.  appearance
Remote control – 2.4G 6-speed with reverse and wall cradle. Fully configurable zoning and pairing.
Drop rod and mounting kit included.
Longer drop-rods available up to 3m – see separate listing Longer drop rods
Balanced motor and blades to avoid wobbles.

Blade pitch 13°.
Weight 7 kg.
Voltage 240V – 50 HZ.
Airflow at max speed: 11,700 m3/h using 28 W at 125 RPM.
Super Efficient – 27% higher than the regular Zephyr of the same size due to better blade shape.
Fan speeds: Speed 1=50 rpm, speed 2=61rpm, speed 3=81rpm, speed 4=98rpm, speed 5=117rpm, speed 6=125rpm
Coverage area: Small 15-20m2, medium 25-35m2
Lifetime Warranty on motor, 1 year on the remote controls and rest of fan.
Max angle for sloped ceilings is 16°.  It can be increased to 40 ° by a minor modification – please call for details.
3 Year rust-proof warranty for the finish.
Damp and sea climate use – see below.
ENERGY STAR © – Low energy certified.
US UL & EC, CE and German GS certifications.
Shipping – UK mainland free next-day courier, EC £20 next-day from our German warehouse.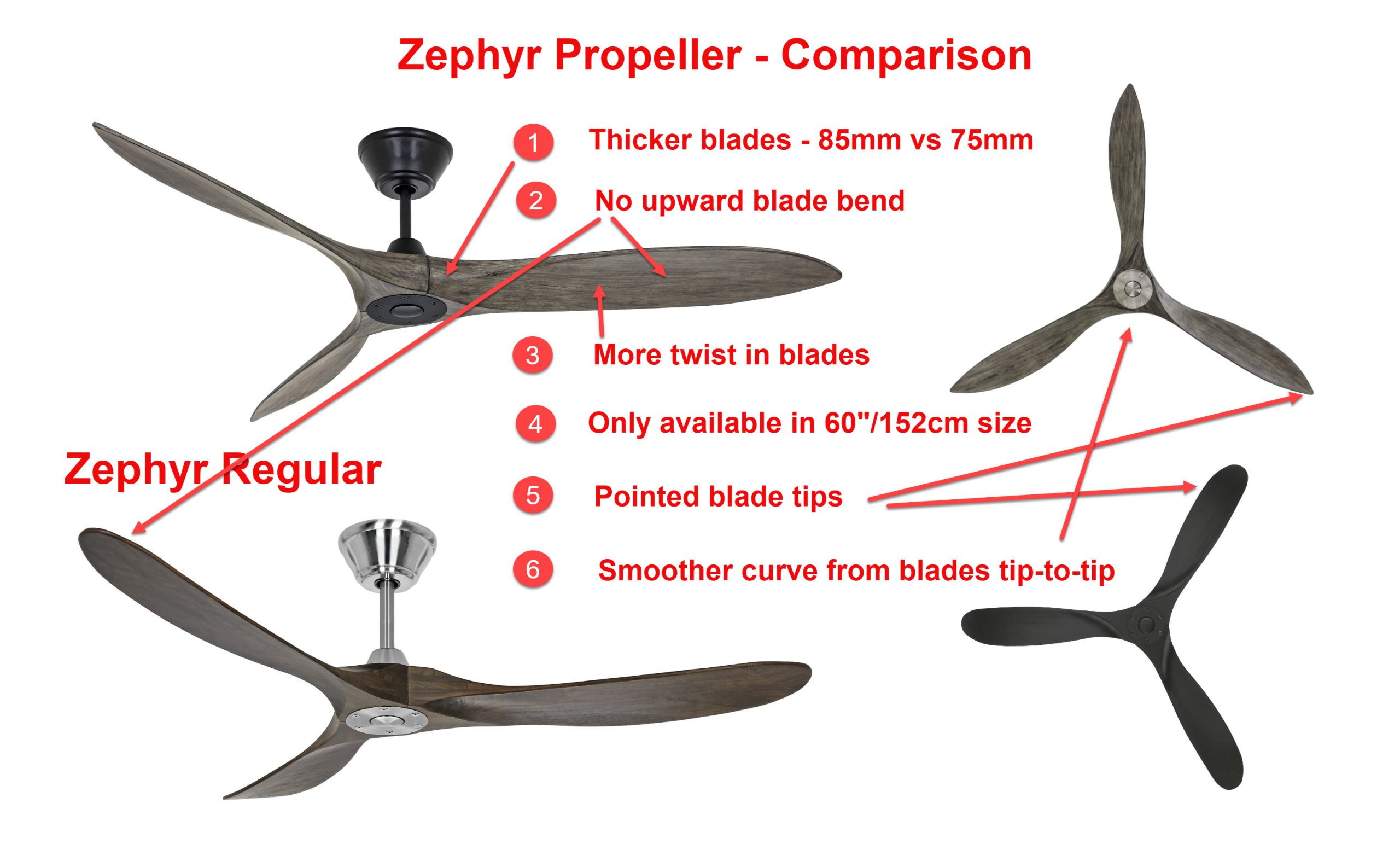 The differences are the Propeller version has:
Slightly thicker blades – 85mm vs 75mm
No upward blade bend
More twist in the blades
Only available in 60″/152cm size
Pointed blade tips
Smoother curve flow from tip-to-tip
More efficient blade shape moves 27% more air than the regular 60″/152cm Zephyr
Outdoor Ceiling Fan – Use by Sea and in Damp Conditions
The Zephyr Propeller is also rated for damp and sea climate use.   This means that the motor is suitable for use in outside damp, humid and sea-salt climate locations provided the fan is kept covered (no direct water, non-IP rated).   The rust-proof finish has a warranty of 3 years.  It is also ideal for conservatories that get cold and damp in the winter or seaside condos, and is popular on boats or ships (needs a voltage regulator).
The Most Efficient Ceiling Fan Tested By US Government
The 110v sister version of the Zephyr Propeller has the same motor and has become one of the best selling designer ceiling fans in the USA.  It is one of only a few to be awarded the Energy Star Most Efficient ceiling fan for energy usage in 2017, 2018, 2019 and 2020 by the US government Environmental Protection Agency.  This independent body tested it to give an incredible efficiency of 1,158 cubic foot a minute/watt which is 2-3 times most other brands.
"Worth Every Penny"!
Our customers love this fan too – see what they are saying.  Click on image to go to the TrustPilot site.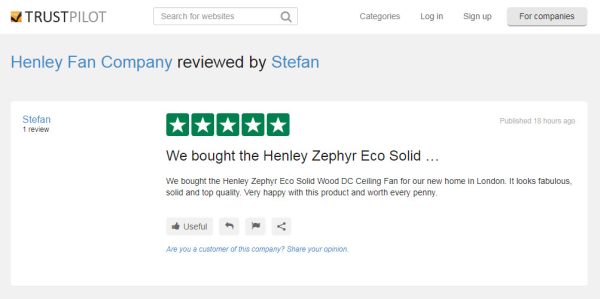 More Information
Delivery is by courier within 2-3 days in the UK (free) or Europe (£20).
Download the zephyr-users-manual-v1-1