How to Choose the Perfect Ceiling Fan
Steps to follow:
Read our Ceiling Fan Selection Guide below to understand the basics and ensure you get the correct size.

Read the essential Ceiling Fan Facts page to understand the relevant considerations.

Research using our resources.  Browse through our case studies, galleries, catalogs, testimonials, product reviews, videos and blogs to get some ideas of what style you like.  Get an idea of the brands we stock and what you like for example a more fashionable or a more traditional style.

Go to our Shop page on the menu above and use the filters on the left to explore your choices and to find specific models of interest.  Then click on each product in the shortlist for detailed information, full size pictures and specifications including data sheets and installation instructions.

If you are not sure of anything or have any questions please just call our sales line above to talk to our highly knowledgeable staff who have been selling ceiling fans for over 10 years now.

Then place your order either securely online or call our sales number above and place it over the phone.  It should be delivered the next working day or day after depending on when you place your order.

For any problems before, during or after your purchase we are here to help to ensure that you are a satisfied customer.  It's what we pride ourselves on doing, and have been doing it for over 16 years!
Selecting and sizing a Ceiling Fan
1. Select the correct size
The size of ceiling fan that you require is based on the size of the room you have. It is important to choose the right size for the proper combination of comfort and efficiency. If you have a bigger room than 300 ft2 then you will need multiple large fans. Depending on the room shape you should aim to use them no more than 15 ft/5m between centres. Use this handy calculator from Delmar Fans to work out what size you need. If you are unsure then use a slightly larger fan so you can maximise your comfort at low/medium speeds, as all fans have at least 3 speeds.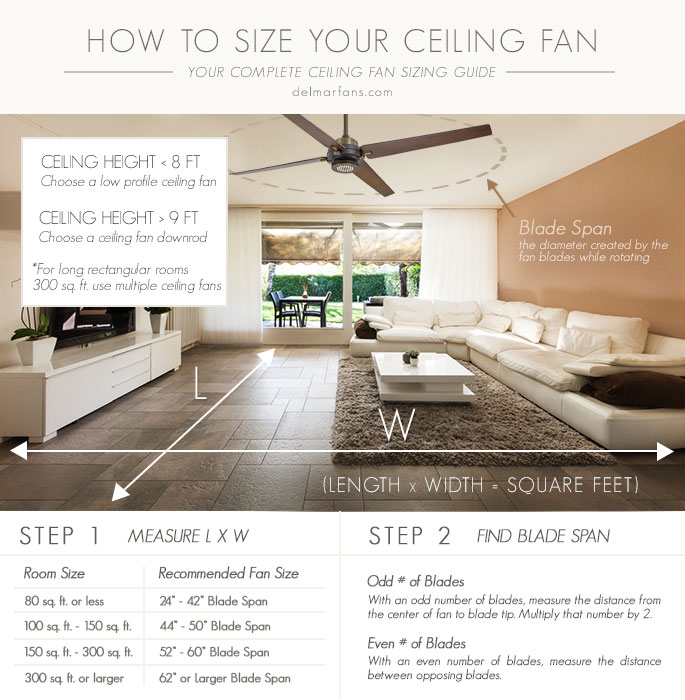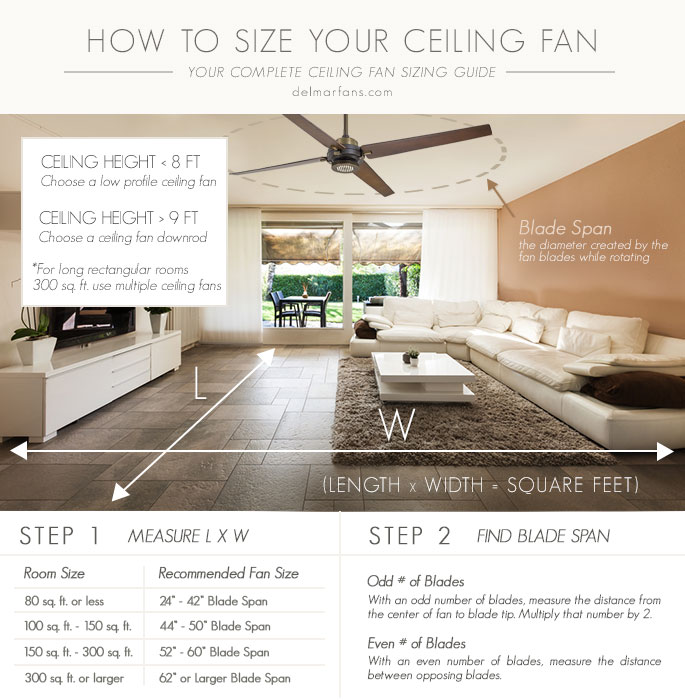 2. What style and colour do you prefer?
For a coordinated interior design look match your blade colour to your furniture or moulding finish.  Alternatively match the motor body finish (which are normally metallic) to your door or cabinet hardware.  Many fans have different patterns or colours on each side and so can be switched if needed.  Blades are not normally sold separately they are pre-matched with the motor finish in the box.  If you have an existing fan and wish to change the colour then you can buy some blades separately.
3. Where are you going to mount your fan?
This depends on how high your ceiling is and whether it is angled or not.
A. Standard Ceilings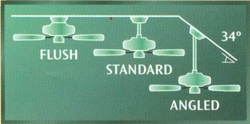 In the UK the standard ceiling height is 7'6″ /2.3m.  Most ceiling fans come with a choice of 3 positions flush, standard or angled.  The maximum angle that can be handled on a ceiling fan is 34°.
B. Low Ceilings
There are a number of models such as the Hunter Low Profile or MrKen Hugger models that are designed to fit flush onto the ceiling without any drop of the motor.
c. High Ceilings & Drop Rods
If your ceiling is higher than 9 ft then you will need a drop rod or extension rod to bring the fan down to its optimum operational height.  These are threaded hollow steel rods through which the wiring needs to pass to go to the fan itself.  Some drop rods come with the wiring pre-installed but most require an extension to be fitted on installation.  These rods take the whole weight of the fan and are secured by cotter pins or threads or both to ensure that they don't shake loose over time.  You will require ft for ft a rod for each ft over 9ft, eg a 12ft ceiling will require a 3ft drop rod.  The maximum angle that a drop rod can operate at is 34 °.
4. Do you need a light?
Some fans come with lights built in or some can have them added separately.  The light can be either traditional bulbs, low energy or the very latest designs use LED lights either built into the kit (in the case of Lucci Beacon) or separate LED bulbs.  There is a huge choice of kits, glasses and bulbs so you can pick something that fits your existing room style or if it is a new room then a light that makes the whole ceiling fan the focus of the ceiling.
5. How do you want to control the fan?
Ceiling fans (and their accompanying lights) can be controlled by 3 methods:
Pull chains – These are small chains that dangles from the fan motor body with a small key on the end called, not surprisingly, a "fandangle".  They are only used on AC fans.  By pulling the chain consecutively it will cycle through the speed settings.  There are normally 3 speeds on an AC fan which are controlled by capacitors.  DC fans use more sophisticated motor control technology and typically have 6 speeds.  Pull chains are only suitable if the fan is at a standard or low height.
Wall controls – These can be located next to your normal light switch.  They can be used either directly to control the fan and the light (although you will need to run 4 core wiring to the provide an additional "switched live" to turn the light on/off) or also be used to isolate or be a master switch when using a remote control.
Remote controls

– These have become very popular in recent years and provide a handy way to control the fan.  Some controls are very sophisticated and can be set with timers and even thermostats to switch the fans on automatically.  The control comes in 2 parts, the receiver and the handset remote.  The receiver sits either inside the fan canopy in the case of AC fans, or in the motor assembly in the case of DC fans.  The remote is battery powered and has dip switches so that different fans in the same room can be controlled by different remotes using different radio frequency channels.

Reversible Motors – Most fans can also be run in reverse in the winter to bring trapped heat down from a ceiling to floor level saving energy.  The normal direction of a ceiling fan in summer is anticlockwise and there is a slide switch located on the body of the motor that can reverse the direction on AC fans to be clockwise and on DC fans it is on the handset.
5. How long a warranty do you want?
Hopefully nothing will go wrong with your ceiling fan but we all live in the real world where with the best will things can and do go wrong!  We also all know that you get what you pay for and so it is impossible for a fan costing £50 to be of a similar quality to one of £350.  The law provides for warranties of 1 year and many cheap fans only just make it past that milestone before they start humming, buzzing, wobbling and the finishes start to tarnish and peel.  It is a false economy to purchase a cheap fan since the labour costs to swop it out will dwarf the fan cost.  Far better to get something decent that is built to last and do the job without any hassle, knowing that if you do encounter problems then we are here to provide support, spares if needed and ultimately to provide replacement motors free of charge.  Most of the fans we sell have a Lifetime Warranty.  All the others have a minimum of 10 years warranty even if the manufacturer only provides 5 years or even 2 years.  We think it is worth it as your time is valuable and you really don't want to have the hassle and expense of dealing with faults or living with annoying noises and wobbles.