What is a Designer Ceiling Fan?
Ceiling Fan Market Segment Pricing
In recent years the ceiling fan market has broadened considerably with additions at each end of the market.  At the very cheap end there are models starting at around £25-30 that have designs that at first glance look very similar to those costing ten times as much. At the top end there are some very classy models at the £1000 level.  In between there are further segments in the £250-350, £450-550 price point and £750 zone.  As with all things in life you get what you pay for.  So £250-350 gets an excellent AC fan without solid wood blades and £450 gets you a good AC fan with solid wood blades or a DC fan.  The next step up gets more beautifully shaped carved blades with delightful finishes and top quality highly efficient low-energy motors.
Don't be misled by the very cheap Chinese knock-offs that are sold for £150 which are junk and although they look very similar are noisy, poor quality and will certainly not last long.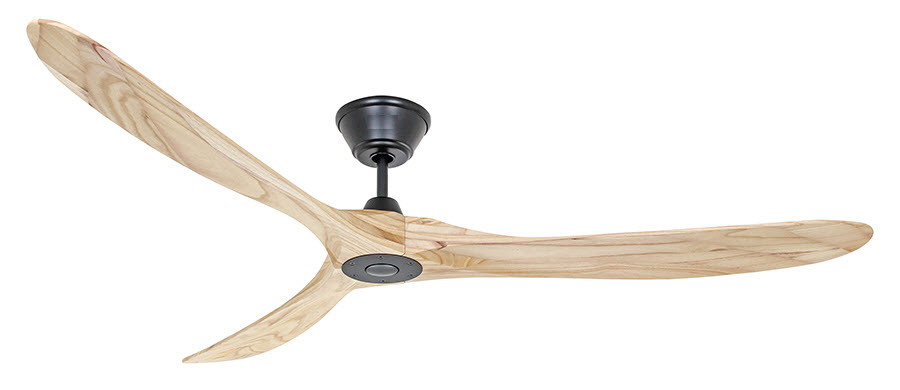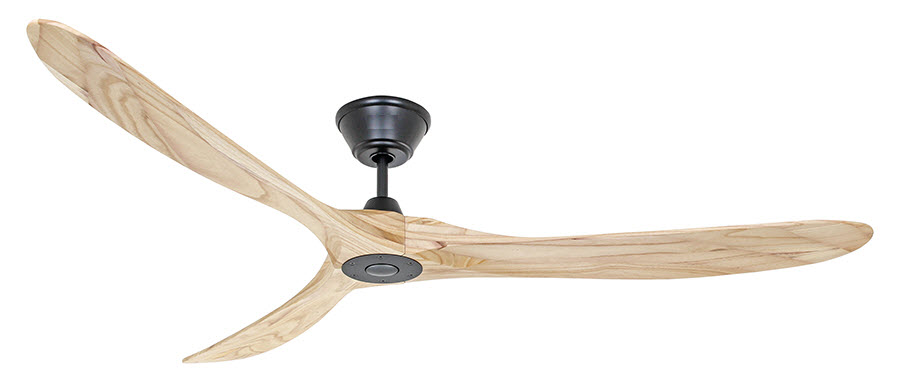 DC vs AC Fans – What is the Difference?
A DC fan is fed with mains power exactly the same as for an AC fan but the receiver or driver as it is often called converts the AC into a DC voltage so that the sine wave can be modified precisely for saving energy and speed control.  The voltage is then changed back to AC and fed to the motor.  This gives two major benefits 1)Energy saving of up to 70% for the same air flow and 2)6-8 speeds of control cf to the 3 of AC motors.
General Design Trends
The two biggest developments we have seen in the last 5 years has been the emergence of new very efficient compact brushless ECM type of DC motor with their controllers and the use of solid compressed light wood blades.  This has spawned a whole new generation of ceiling fans that not only look amazing but have much improved performance over the traditional and now much cheaper AC motor fans.  Furthermore their reliability is improved by having no brushes and for maximum energy efficiency they are designed to run at their most efficient at half the maximum speed.  The new motors and blades are both relatively expensive to produce which accounts for the price point.  These two trends and what they have enabled to happen define the new standard for state-of-the-art designer ceiling fan.
Now blade designs can be 3D with carved propeller looking blades as opposed to the traditional 2D blades made out of plywood or worst still hardboard at the bottom end.  They are hand finished and balanced to ensure there is no possible wobbling from a set which is usually 3 or 5 blades. These days the motor is much smaller and can even be hidden entirely by the wooden blades something that was impossible 10 years ago.  In terms of control the motor is started by an electronic control with a built in receiver that enables the user to have a handset with a bigger range of speeds than AC typically six along with reverse.
The older AC motors use much cheaper start and speed control capacitors which in the cheapest models start to break down after 1-2 years creating hums and buzzes but in a good brand like Hunter should last 6 or 7 years before this occurs.  The same happens with the cheap copper or cheaper aluminium windings and motor lamination epoxy that also has a very short lifespan.
What Interior Designers Look For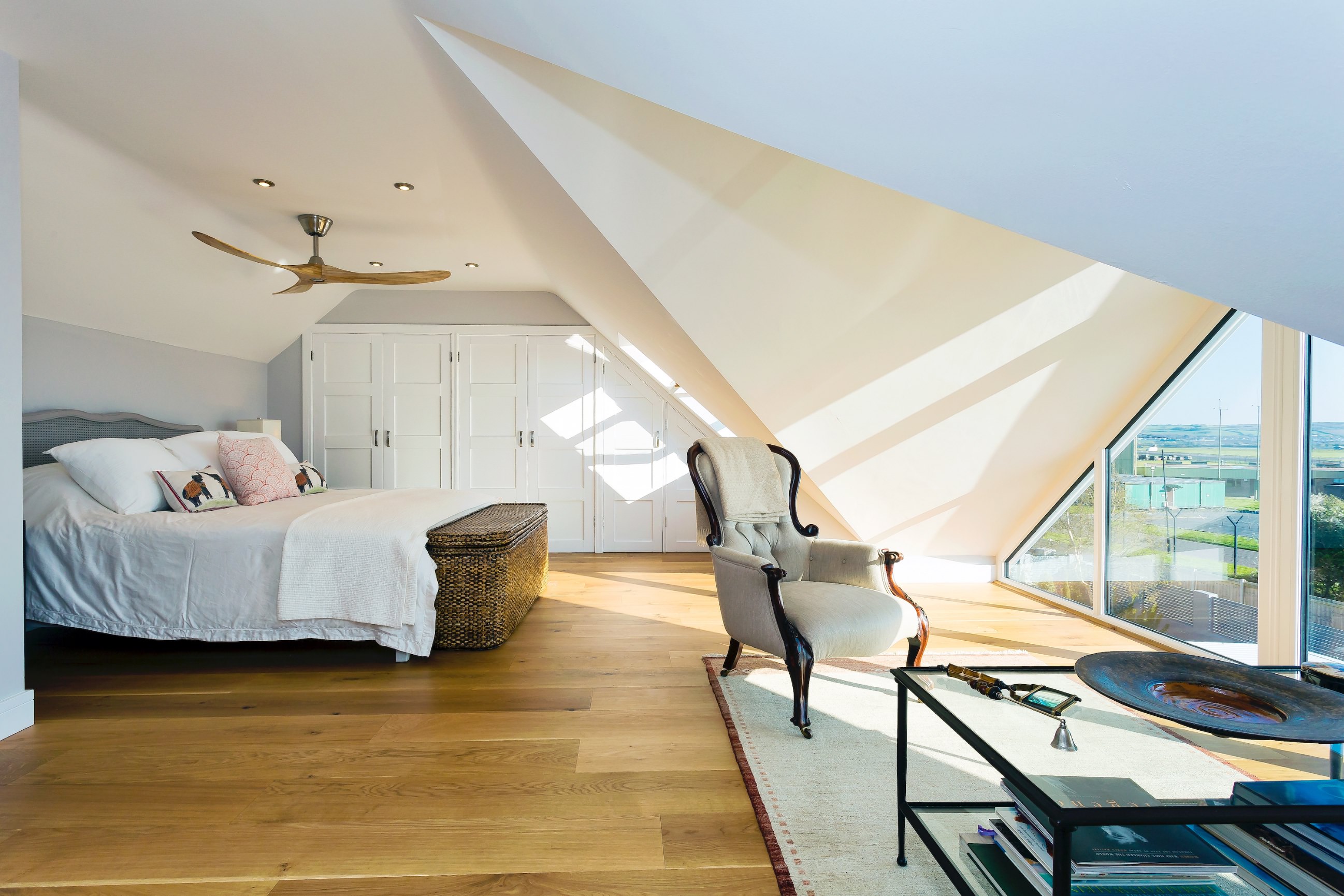 Interior designers make their living by making rooms look beautiful.  They want things to blend together to make a harmonious whole and so want matching colours, finishes and materials that are contemporary.  They also think about focus and the impact on the eye when walking into a room along with the emotions that get stirred as a result.  A ceiling fan is typically placed in the centre of a room and so is always going to have an impact.  The only question is whether it is good or bad!  An old or bad looking design that doesn't match can not only be ugly itself but make the whole room feel negative and that is not the result you want to achieve after spending thousands of pounds decorating or doing up a room.
We closely watch the interior design trends as we have to tie-in to these.  We speak a lot of interior designers or buyers asking us to supply what interior designers have specified and so can help with the latest tastes.  Unless it is a heritage building the current style should be modern, contemporary and fresh with clean simple lines.  The Zephyr fan above embodies these qualities into what everyone agrees is a unique and beautiful design.  The choice of finishes in the motor body and drop rod can give added impact as in the case above where a light solid wood blade and contrasting matt black motor looks stunning.
White Designer Ceiling Fan Blades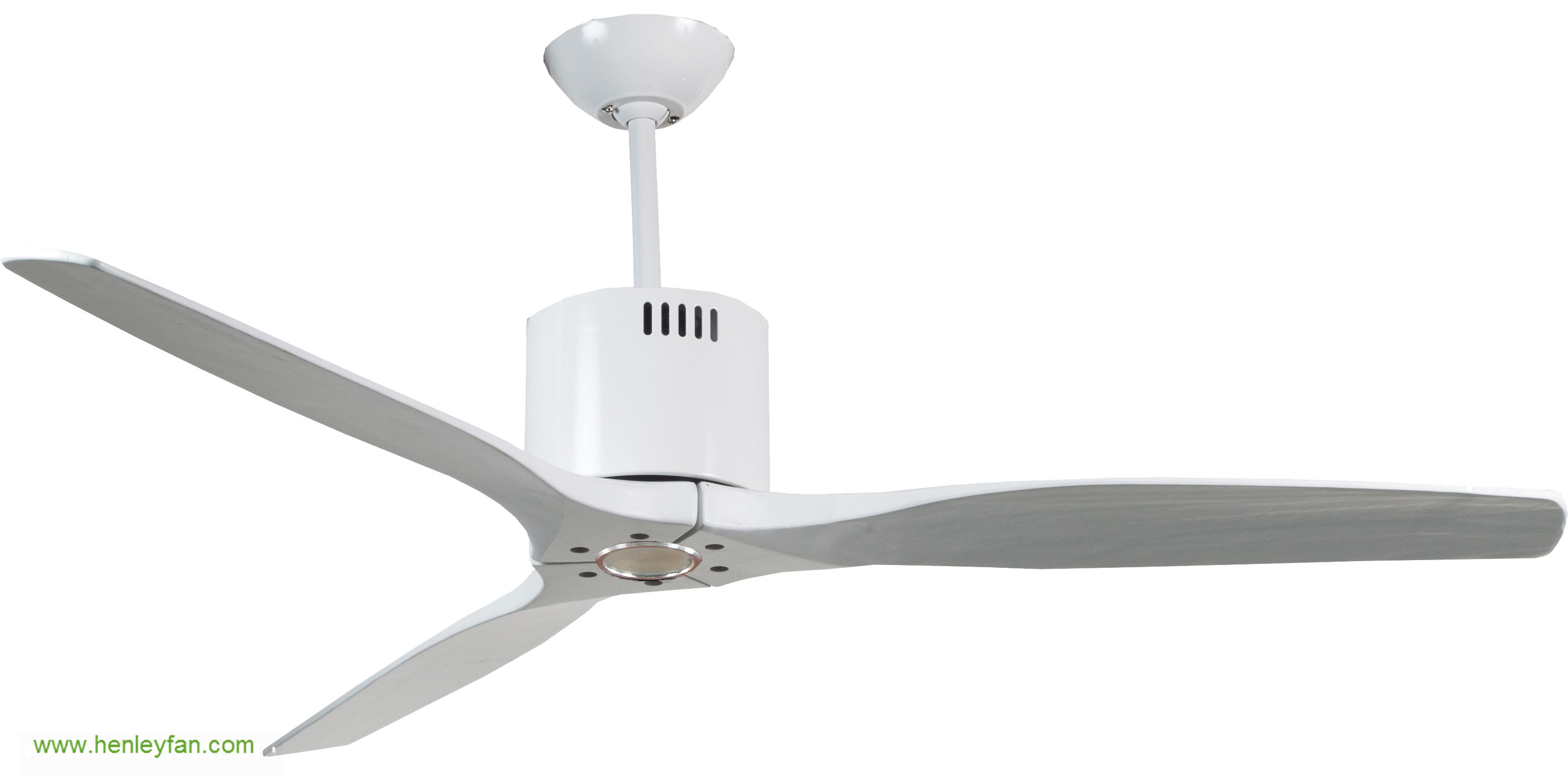 One of the very latest trends in interior design colours has been towards white and off-white.  This presents a real challenge for designer ceiling fans since most of them have compressed solid wood blades (balsa or pallonia) which can give off small amounts of resin over a long period.  This resin in direct sunlight can, even with sealing, sometimes discolour the white and make it turn a yellow shade.   This problem is avoided by using a better quality of higher grade seasoned wood which all our brands use.  Furthermore, the wood comes from certified sustainable forests.
We offer our flagship model the Zephyr in a pure lacquered white as well as the new Falcon and Matthews ranges.  The MrKen in an off-white which is something many interior designers prefer as an alternative to brilliant white.
The alternative to solid wood carved blades is to use ABS (plastic) or else plywood which you will find in a more traditional AC ceiling fan design such as the Hunter Savoy or Hunter Seville.
Designer Fan Features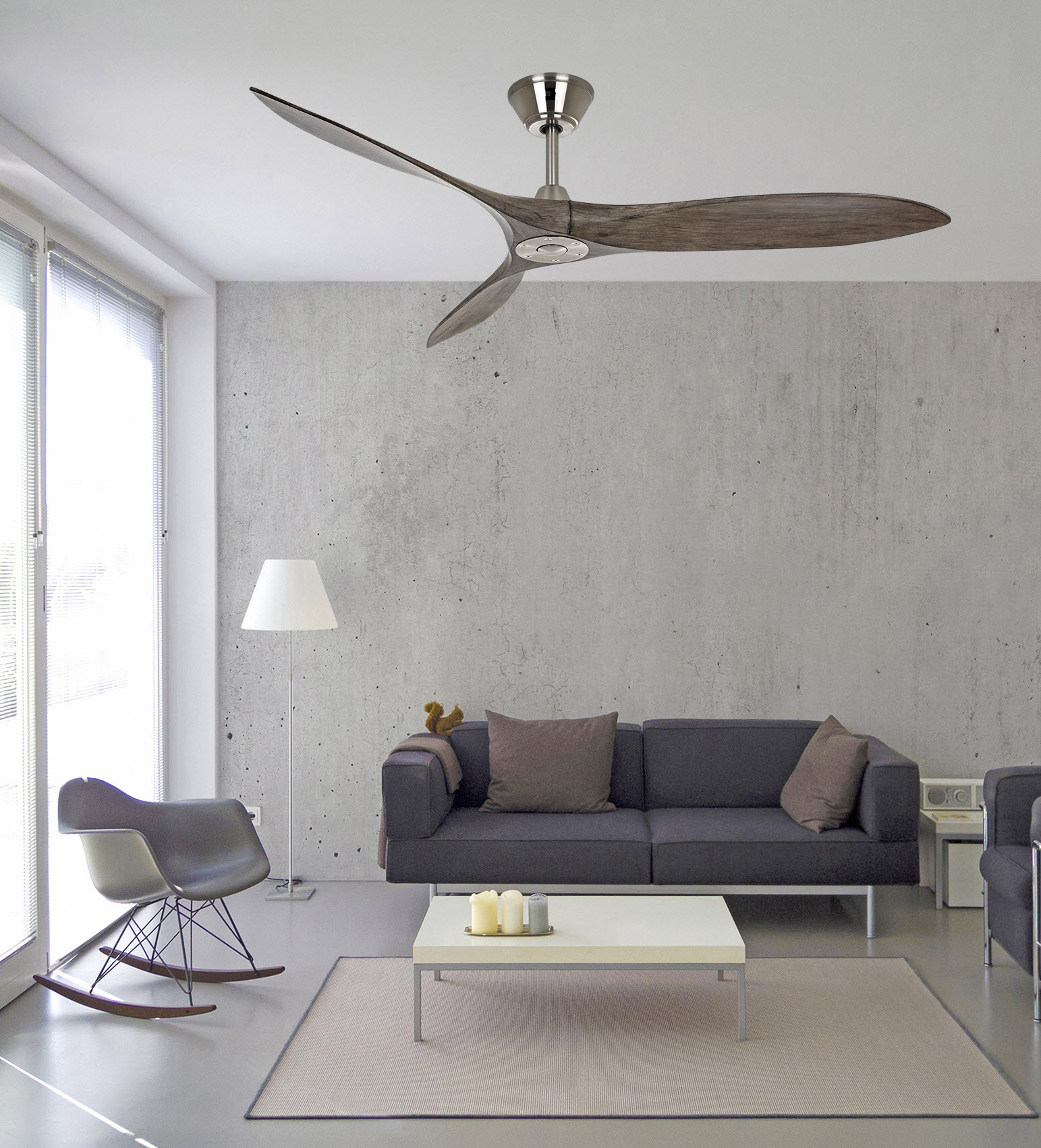 Designers have taken these changes and combined them with the taste and demand from the wider fashion trends taking place in interior design.  There is an appetite for new colours such as bronze, grey, matt black, dark koa, pewter and antique brass.  The result has been the creation of a range of more expensive, modern styled designer ceiling fans.   We don't include in our discussion the more wacky designs that would only be suitable for those that wanted to make a strong statement such as the one bladed fan.  There are so many designs that come and go that most people would never want to see in their home or restaurant.  Mainstream designer ceiling fans however look beautiful for all to see.  The Zephyr fan (shown above) epitomises this genre and nobody can fail to be impressed with its beauty, style, performance and features.  The US version called the Maverick, has been tested and classed as the most energy efficient ceiling fan of 2017.
 So what are the typical features of a designer fan? :
Motor – They use a ECM/DC very low energy, high performance motor
Blades – Solid light-wood carved blades, usually hand finished, painted and balanced in sets
Control – Hand held wifi 6-speed remotes, sometimes using 4G technology
Finish – Dark browns, bronzes, matt blacks, brushed nickel and white
Quietness – There should be no noise whatsoever from the motor. No annoying hums or buzzes from the capacitors, motor windings or motor plates
No wobble – The fan should move smoothly with no wobble whatsoever even with a long drop rod
Light kits – Normally absent as lighting is created separately these days
Warranty – 25 years or even liftetime for the motor
Brand – Manufactured by a well established well respected brand with at least 10 years experience in ceiling fan design.
Design Fan Concept Stores

To showcase their beautiful designs MrKen has created a chain of six interior design concept stores in Thailand and Taiwan (similar to Apple) that enable interior designers and customers to visit and see all their models close up. If you are visiting these countries be sure to pop in and experience their flair for design, innovation and style.  No other brand in the World has done this with most DIY stores confining themselves to a displaying a handful of cheap and nasty offerings at the edge of their lighting section!
Are Designer Fans Worth The Money?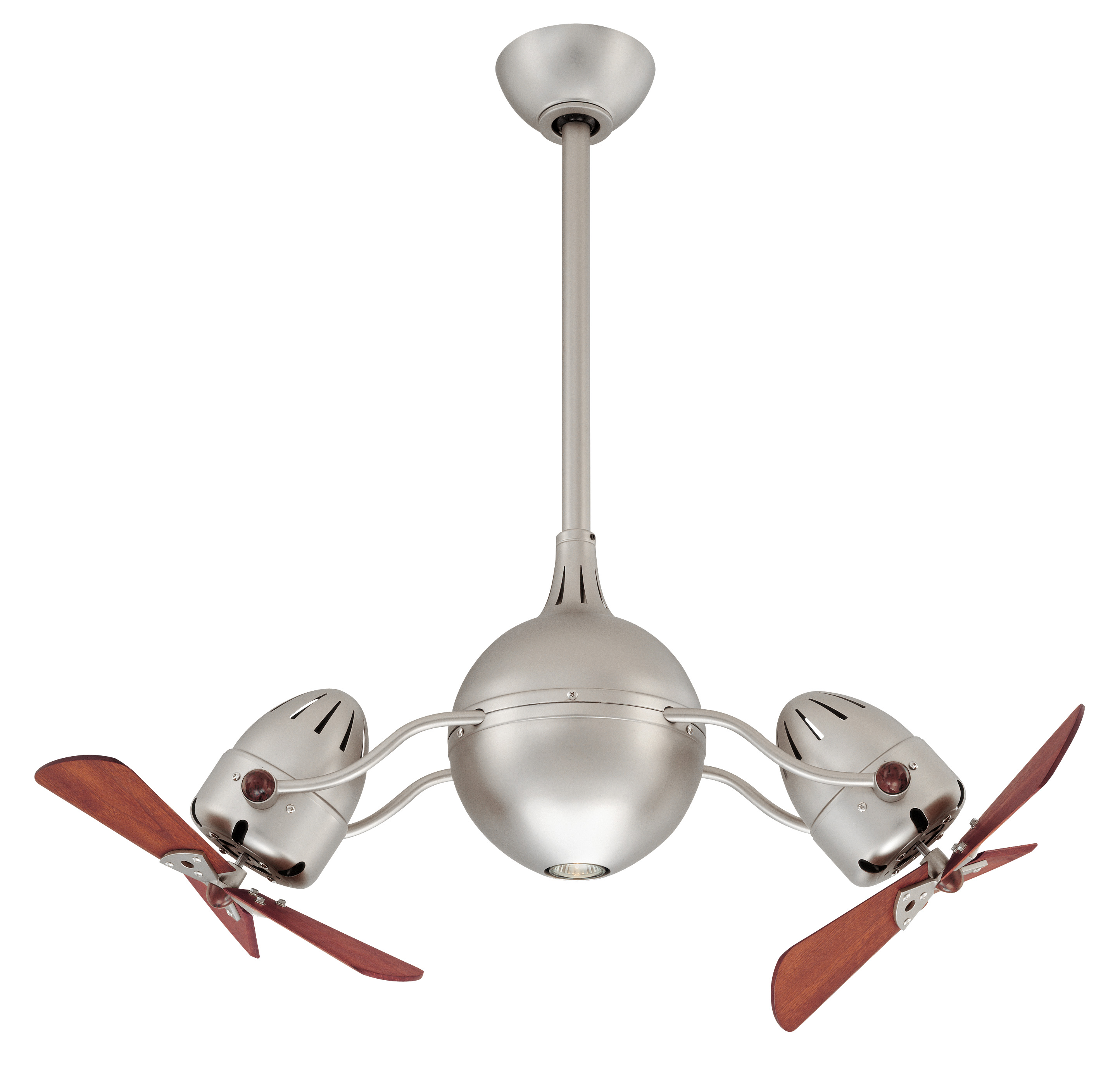 It goes without saying that the fans at the very cheap end are going to be very poor quality and very likely to fail within a year or two due to the quality of the components giving annoying hums and buzzes or even just stopping all together – as the adage goes "you get what you pay for".  At the other extreme are the fans costing thousands of pounds which are used to make a fashion statement and don't really offer a pragmatic solution to interior designers. In the middle are the designer fans which are at a sufficiently high price point to enable a quality product to be offered that is just not possible at the lower end of the market but without being ostentatious or crushing any sensible budgets.  If you add in the installation costs then it really is a false economy to use cheap ceiling fans as most of them are really what can only be deemed "ceiling junk".
The secret true answer lies in where you wish to deploy a ceiling fan.  If it is an up-market restaurant or hotel then they will impress your customers and give you years of faultless service.  If it is in a bedroom then quietness is essential for a good night's sleep and so certainly worth it there.  For other rooms that might only be used occasionally then not worth the extra.  For rooms that you and others use a lot such as a conservatory or lounge then yes it is certainly worth paying more for and not something you will regret.  
A lot of old traditional designs look very o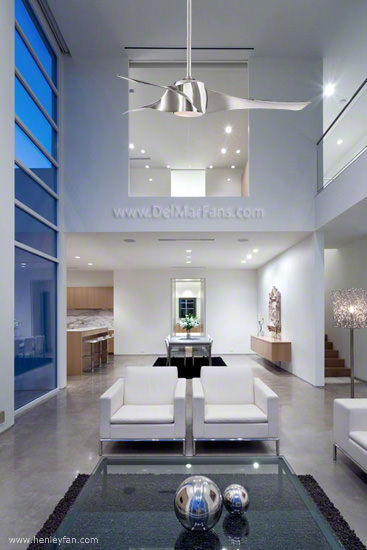 verpowering and ugly in comparison to a typical designer ceiling fan.  Many people never think about upgrading or replacing the ceiling fan.
At the end of the day style, beauty and design matter unless you enjoy living in a communist era housing project.  They matter because it is your home and work environment that you care about and it speaks about your values to others when you invite them into your space.