Ceiling fans vs air-conditioning – Cost comparison

Air conditioning is very expensive to install and run as well as being unreliable and uncomfortable for patrons too with it's very dry air output.  Ceiling fans offer a very cost-effective alternative at 5% of the installed and running costs, saving valuable energy and reducing harmful carbon emissions.  They are perfect for the English weather where it rarely gets hot enough to justify air conditioning but can often get very stuffy and hot without any aid to air circulation.   With all the heat from the food and other customers it can become quite uncomfortable.  With a ceiling fan the air is circulated around the room in a very quiet way which keeps the patrons feeling fresh and most important of all not cooling the food when it comes out.
Air conditioning flash dries the food and instantly cools the food down.  This is because of the dry air which forces evaporating of water from the food and as we all know from our chemistry lessons this requires a large amount of heat energy, energy and that is taken from the food.  Many restaurants, pubs and bars simply don't turn on their air conditioning system purely for this reason.  When the high energy, maintenance and running costs are added in then many systems are often not maintained, broken or just not unused.  Only when it becomes totally unbearable is it finally turned on!
Give Relief To Hot Steamy Bars
Here we see a typical example of how effective ceiling fans can be.  This is the very popular bar and restaurant of the Hertford House Hotel bar and restaurant.  In the evenings when it gets really busy the heat, humidity and stuffy air become almost unbearable.  Clearly the existing HVAC system was not up to the job and so a cost-effective simple remedy was to install 6 very powerful Hunter Osprey ceiling fans. This has transformed it and means that it is even busier now as the guests stay longer!  Click on the image for a Google inside walk through of the bar.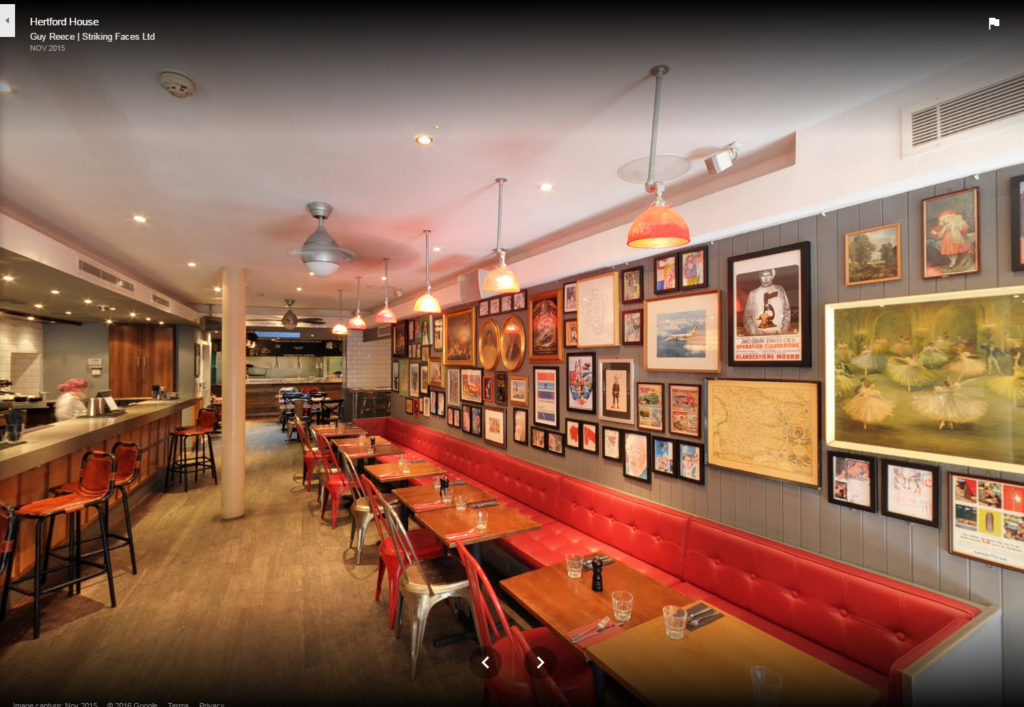 Henley Fans Used Nationwide
Ceiling fans, on the other hand, don't suffer from this problem.   They can be gently stirring the air providing a direct cooling effect of at least 5 degrees centigrade plus, if a window is open, can bring in cooler fresh air from outside providing even more cooling.   Ceiling fans have been used in this way for many years in the USA and warmer countries but are now being more widely adopted in the UK, Northern Europe and temperate regions.
Many restaurants across the UK (and further afield) have purchased ceiling fans from us.  From small exclusive specialist ones such as Mews-of-Mayfair (as shown above) and Balthazar to some of the biggest national restaurant chains such as Cafe Rouge, Old Orleans,  Frankie and Benny's and Cafe Nero who now incorporate them into the standard designs of almost all their restaurants.   Other chains such as Jamies Italian and ASK Italian (right) have deployed our fans in select restaurants to good effect.  All of the fans we sell here can be used in restaurants, bars, clubs, pubs and cafes including some damp rated for outside covered use.  Our case studies and galleries are full of examples of businesses who have deployed ceiling fans to make their customers more comfortable and happy, and as we all know, happy customers stay longer and spend more!