Description
Lower Your Ceiling Fan To The Correct Height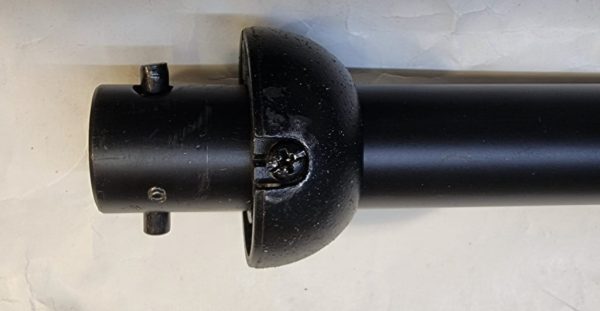 The ceiling fan is suspended with a tube or drop rod that has a simple ball at one end which sits in a cradle socket arrangement.  This provides security against falling down through the use of a cotter pin and spring clip to prevent it coming loose whilst being free to move according to gravity to centre-itself thus avoiding wobbles.  There is also a lug on the ball to prevent any rotation of the ball in the socket. The weight is transferred through the ball and bracket into the fixing on the ceiling which must be solid.
There is also a safety wire at the motor end that will support the motor weight if for any reason the cotter pin should come loose although this would be an extremely rare instance when the spring clip is left off or else when the installer substitutes the cotter pin for a screw which we have had reported.
Drop rods are often called extension down rods or pipes. They are important as they bring the ceiling fan down to the correct height and also to look good.  This means that they work at the correct and most efficient operation which is about 8ft/2.5m height above floor level.  Any lower and you risk the safety of tall occupants, any higher and you start to loose effectiveness. The length of the drop rod will be determined by the ceiling type, it's height and the drop of the fan.  If your ceiling is above 8ft then the use the sizing guide below to see what length of drop rod is needed.
NB:  If your ceiling is lower than 8ft/2.5m then you should use a flush mounted ceiling fan instead of the short drop rod that usually accompanies most ceiling fans.  If your ceiling is above 2.8m/9.2 ft then the length of drop rod that needs to be added will be whatever is needed to keep the fan at a 2.8m/9.2 ft height. A ceiling fan will still work even if it is higher than this but will loose some of its effectiveness which increases as the height increases so you end up with less cooling.
The Zephyr fans come with a short 8″/20cm drop rod included. This can be cut down to half it's size if needed for low ceilings.  The standard size Zephyr drop rods of 60cm and 100cm listed here are suitable for most needs and available from stock.  They are a nominal diameter 1″/25mm for the Zephyr regular  and Propeller versions and 3/4″/21mm for the Zephyr LED so please ensure that you order the correct type.
Drop Rods and Wobbling Ceiling Fans
In general, it is advisable to use a solid cross-member for very tall ceilings, pitched rooves or alcoves since very long drop rods will resonate a little bit just like a guitar string.  If a cross-member is not possible or sometimes for aesthetic reasons then longer drop rods can be used as the resonance in negligible and the motor itself will not wobble provided the blades are balanced correctly.   They can form part of the ceiling fan feature by selecting the right colour. For example the picture is of a 5m drop rod on a MrKen ceiling fan.
If the fan blades and motor are properly balanced using the balancing kit then there should be no wobble even with a very long 72″/183cm drop rod – it is not uncommon to see wobbling fans even with short drop rods!  Fans placed near the top of a high ceiling or where no drop rods have been used – as seems to be the case in many large retail outlets and airports – are achieving nothing and are a pointless waste of money.
How to Fix a Wobbling Ceiling Fan
To learn how to fix any ceiling fan wobbling you might be experiencing please visit our balancing kit page which has a very good explanatory video.  All ceiling fans should come with a balancing kit but if you have lost it you can order one from us on this page.
Ceiling Fan Drop Rod – Sizing Guide
Use the sizing guide to the right to determine if you need to use a drop rod and if so what size it needs to be.
Lengths – 60cm or 100cm
Sizes –  Large 27mm/1″ nominal diameter for regular and Propeller Zephyrs and 21mm/3/4″ nominal smaller diameter for the LED version
Painted finishes  – Textured matt black (looks great with the matt black housing powder coated/oven baked hard finish) or matt white
Plated finishes –  Brushed chrome, brushed brass
Extension wiring loom – 4 or 6 wire loom included with connectors
Made in UK
Postage and packing – Delivery by courier to the mainland UK is included (Scottish highlands etc is extra.)
In-between sizes – The drop rods can be cut down if required.  Simply drill a new hole for the cotter pin to go into.
Other Sized Drop Rods
In-between sizes – The drop rods can be cut down if required and simply need a new hole drilling for the cotter pin to go into.
Longer sizes – We have designed our own custom extra-long drop rods which are 2m and 3m (in 2 parts to facilitate shipping) drop rods made in a local UK top quality fabricator. –  See separate listing for details.
Drop Rod Wiring
The wiring loom comprises of 4 wires that run down to the motor via a cable that sits inside of the drop rod.  These carry live, neutral, earth and a control signal.  For the LED version there are two additional wires for the light.   Snap connectors are used to simplify the installation and ensure the correct wires are connected.  They can only be connected the right way thanks to the snap-connectors.