Description
Henley Fan Powerboat – Replacement Hunter Remote Control
The Powerboat is our Henley Fan brand great looking, great value ceiling fan remote control pack designed specifically for use with Hunter ceiling fans with built-in voltage spike protection.  It's great look is designed to be similar to the now discontinued Hunter Speedboat remote and at half the price represents great value for money.  The pack comprises of both the receiver (which sits in the canopy of the fan) and the handset which sits in the wall cradle for safe keeping.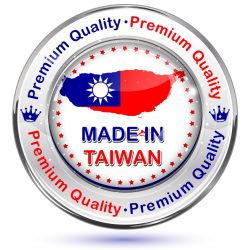 Beware Cheap Remotes – Why pay twice over?  The Powerboat is manufactured in Taiwan by Rhine, the best specialist remote control producer in the World with a 25 years reputation for excellence to exacting German standards with a quality design from Casa Fan having both TUV-SUD and CE approvals.  It is designed to resist the regular power surges and voltage spikes that occur in the mains that will blow cheaper Chinese-made receivers to provide a robust and long-lasting service – hence the 2 year warranty that we give – all other retailers only provide 1 year on their remotes. This receiver is designed to be compatible with and will fit all Hunter ceiling fan models apart from the Alchemy.
Features & Benefits
– 3 speed fan control for AC fans only
– Hunter version compatible with all Hunter models
– Hunter quick-fit 4-wire connector blocks
– Contains remote handset transmitter and receiver pack
– German TUV-SUD and CE approvals
– Light dimming selectable using dip switches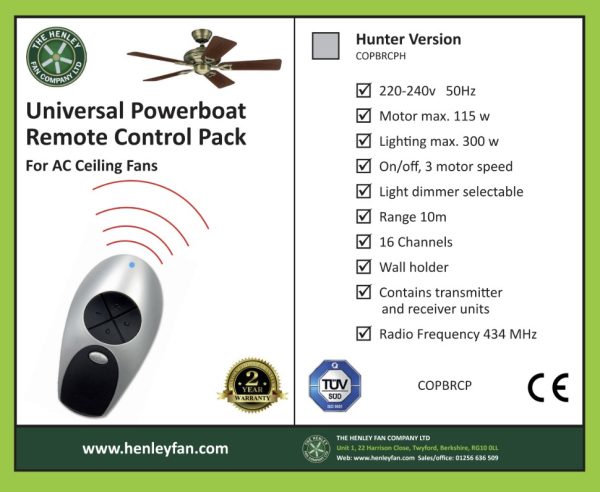 – Dimmable bulb can be LED from a quality brand
– Includes a wall-cradle holder
– 230V-50Hz
– Maximum motor power load 115 W
– Maximum light load 300 W
– Power voltage surge protection – prevents damage from voltage spikes
– Radio frequency works on 434 Mhz range- RF Range 10 metres
– 16 Selectable RF codes (to avoid interference with other devices)
– Blue activator light
– Takes 23A 12v battery (not included)
– Manufactured by Rhine Taiwan with German Casa Fan design
– 2 Year warranty (excludes water or physical damage)
– Free UK shipping included (EC shipping £10)
Important Installation Notes
1. Receiver Unit – If you are planning to replace an existing Hunter remote you will need to fit the Powerboat receiver into the canopy for this to work.  There is a standard slot in the ceiling fan canopy for the receiver to go into which is always a tight fit due to limited space and to avoid any vibration from the fan to cause rattling. The handset on it's own is not compatible with and will not work a Hunter fan receiver.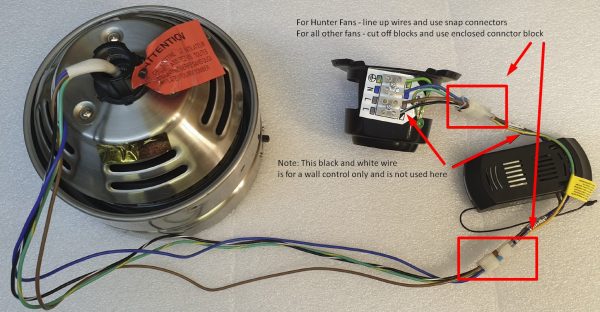 2. Snap Connectors – The receiver in this pack has the standard Hunter 4-wire electrical snap connector blocks for quick and easy fitting – see image.  Ensure that the wires line up according to their colour.  This receiver can be used on other makes of AC fan but the fitted blocks will need to be cut off and any good connector blocks used instead. Note that there is no black/white wire from the fan canopy in to the receiver as that is there for the wall control signal only and is not used here since the control signal goes via RF direct to the receiver.
3. Troubleshooting –  If your existing remote control no longer works then try replacing the battery first and that the blue light works when pressing the buttons.  Then check that you have power going to the receiver unit and when turned on by the remote power coming out of it.  If not then the receiver is blown or failed and needs replacing.  If it does then there is a problem most likely with the start control capacitors and wire harness or very rarely the motor itself – please contact our office for advice and replacement spares.
4. RF Channel Problems – If the receiver is a new installation then check that the dip-switches on the remote handset match those on the receiver.  If you are using other RF remotes in the same room then they might activate the ceiling fan if they are on the same channel.  If so then use the dip-switches to select another channel.
5. Reverse Switch – Do not use the slide-switch to put the motor in reverse while the receiver is on as this will damage it.
6. Lamp Flickering/Dimmable Bulbs – If you experience this or a flash when switched off it indicates that you have a non-dimmable OR a cheap Chinese brand bulb installed. Remove and replace with a dimmable one from a reputable brand to avoid damaging the bulb. If you are NOT using a dimmable bulb then the relevant dip-switch must be set to off.