Description
Hunter Seville II – Timeless Popular Classic Ceiling Fan
The Seville II high performance ceiling fan is one of Hunter's most popular fans and understandably so. It's timeless design has sold literally millions around the World over the last 40 years. The famous very reliable, powerful and "Whisper-Quiet" Airmax motor delivers a great airflow.  Coupled with the alternative wooden plywood blade finishes make this a versatile choice which compliments many current and traditional room styles. Its compact size at 45″ makes it great for any small room and particularly popular in conservatories.
The Seville II was rolled out across the country into 90 branches of the Café Rouge restaurant chain in antique brass finish so if you want to see this model close up just go and have a coffee in your local branch.  We also sold this fan through Costco a few years back.  The other room images come from the up-market Kingston House Hotel and conference centre that fitted Sevilles and Savoys to all of their bedrooms since it was a listed building and they could not cut ducts for air conditioning.  The Savoy is almost identical and these give an idea of different finishes in a classical room setting.
Features & Benefits: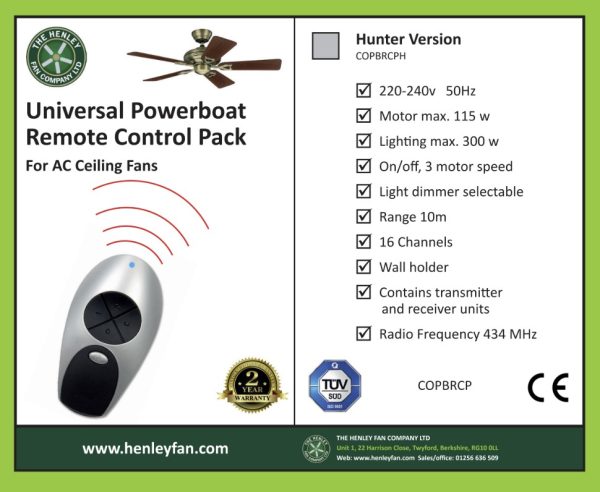 – 45″/114cm diameter
– Finishes: bright brass with walnut/oak blades, white with white/light oak blades, antique brass with walnut/medium oak blades, new bronze with dark cherry/medium oak blades or brushed nickel with maple/grey blades
– 5 Reversible furniture grade non-warping plywood blades, ie can be used one side or the other depending on preference.  Not the cheap & nasty hardboard blades that are found on many fans of this price.
– 240V-50 HZ
– Pull chain operation for start and 3 speeds
– "Whisper Quiet" – At 30 db is 1/25th of the noise of a typical desk fan
– Wobble free canopy system – automatically eliminates wobbles thus reducing noise
– Installer's choice 3 position mounting system – to mount on sloped ceilings up to 16 °, standard with a short drop-rod or flush mount for low ceilings
– Reverse function switch for winter heat savings
– Light kit adaptable
– High specification for long reliable life
– Remote and wall control adaptable, not included – add the Henley Powerboat Remote Control Pack
– Low energy – uses 63 w
– Weight 8.8 kg
– Patented powerful AirMax motor, moves 300 times as much air as a Dyson fan. The motor has ball-bearings, is lubricated for life and is self-cooling, dynamically balanced, with a thermal overload protection for quiet running. Forward / reverse run switchable via slide switch for winter heat recovery.
– Protection – Class I, max. ambient temperature 45 ° C. interference suppressed
– Air Movement 13.600 m3/hr =8,100 cfm high due to the angle of attack of the blades
– High speed 226 rpm
– 25 year Warranty on motor, see review below
– Free UK mainland next working day courier shipping
Seville Fan Manual   Please note if using anything over a 24″drop rod an extension wire will need to be added.  No light kit is included with this ceiling fan but it is available as an extra, please contact our office for prices.
Hunter Lifetime Motor Warranty -18 Year Record Replacement
This customer bought a Savoy from us 18 years ago.  After years of faultless service the motor itself developed a fault and so in May 2020 we replaced the fan in line with our Lifetime Warranty, which is a record for us.  We believe in standing behind our products and brands.  Unlike other shops who come and go and "box-shift" and "drop-ship" at low prices, we have been around for 20 years so we really can provide this sort of genuine service and after sales backup to our valued customers.