Description
Hunter Savoy Ceiling Fan – Timeless Classic – Half Price Bargain!
The Hunter Savoy ceiling fan is a classic timeless simple design which remains one of the most popular in the Hunter range especially with the contemporary finishes.  It is a very similar design to the equally popular Seville and makes a great choice for any room including living rooms, hotel rooms, restaurants and bedrooms. It is easy to see why because it is part of the versatile traditional range of fans that have a slightly more traditional feel but coupled with some very contemporary finishes in the blades and body. It is a simple, straightforward design that is uncluttered by fussy details.
The Savoy is a chameleon that can top off any décor and has been featured in no less than 4 episodes of ITV's 60 Minute Makeover. Perfect for restaurants and hotels seen here are our shots from the up-market Warren House Hotel and Conference Centre in Kingston which is a grade II listed building built in 1868.  Also shown are the white Savoys deployed in the very exclusive Mews of Mayfair restaurant just off Bond Street in the heart of London's luxury zone.
We ended up with extra stock after a big order was reduced and so are clearing these out at half price.
Features & Benefits: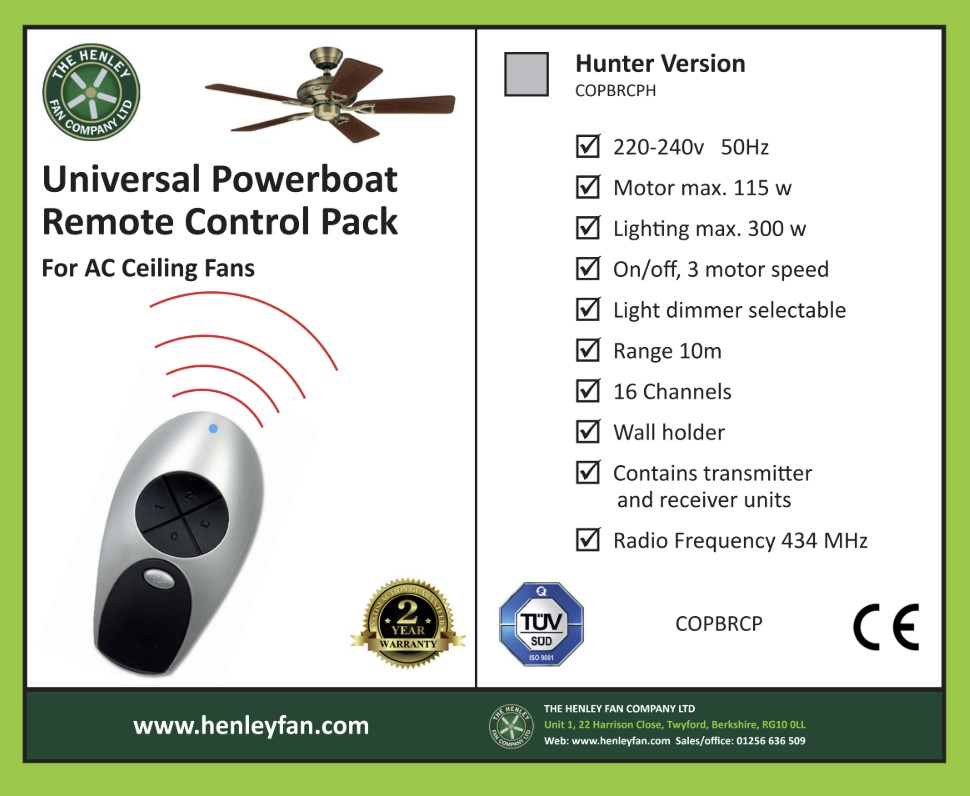 – 52″/132cm Diameter blade sweep
– Finishes: bright brass with rosewood/oak blades.  See separate listing for other finishes.
– 5 x Reversible furniture grade non-warp plywood blades
– 240V-50HZ
– Control – Pull chain start and 3 speed operation
– Patented high performance Airmax motor.  "Quiet for life" ball-bearing, lubricated for life and self-cooling motor, dynamically balanced, with thermal overload protection for whisper-quiet running
– Protection – class I, max. Ambient temperature 45 ° C. Interference suppressed
– Wobble free canopy hanging system with self-aligning ball to automatically eliminate wobble
– Installer's choice 3 position easy mounting system – standard, angled (up to 16° angle) and flush for low ceilings
– Light kit adaptable
– Reverse function switch for winter energy savings
– Remote and wall control adaptable.  RC not included – add the Henley Powerboat Remote Control Pack
– Airflow 13,653 m3/h = 8,031 cfm, high due to blade angle.
– Max power consumption 70 w
– Weight 11.2 kg
– Highest speed 183 rpm
– 25 year Warranty
– Free UK mainland courier delivery
Savoy Fan Manual  Please note if using anything over a 24″drop rod an extension wire must be added.
Hunter Lifetime Motor Warranty -18 Year Record Replacement
This customer bought a Savoy from us 18 years ago.  After years of faultless service the motor itself developed a fault and so in May 2020 we replaced the fan in line with our Lifetime Warranty, which is a record for us.  We believe in standing behind our products and brands.  Unlike other shops who come-and-go and "box-shift" and "drop-ship" at low prices, we have been around for 20 years so we really can provide this sort of genuine service and after-sales backup to our valued customers.