Description
The Henley Aeolus Designer Ceiling Fan with Remote Control & Lifetime Warranty
The Henley Aeolus is new model AC motor, solid wood carved bladed designer fan launched in 2019 which offers simply incredible value.   It is a beautifully styled fan with 52″/132 cm solid carved wooden blades powered by a top quality AC motor – but being AC means it is approx. 35% cheaper than an equivalent DC powered motor (which has much lower energy use due to its better controllability).  The quality is high and is made in Taiwan by one of the best manufacturers globally who have been making ceiling fans for the top brands over the last 45 years.   It is suitable for most locations and is in-fact totally silent and so perfect for bedrooms where every sound is amplified in the still of the night.  The solid construction ensures that there are no annoying buzzes, hums, clicks or wobbles likely to develop coupled with very little air movement noise and uncomfortable turbulent airflow.  This is made possible by the carefully balanced motors and blades.  The beautiful blades are machine-carved from a solid block of sycamore, hand-finished and balanced with a clear protective lacquered finish.  Normally only available on more expensive fans the luxurious blades are impressive compared to the plywood or even hardboard blades normally found on fans of this price. Sycamore is a quality, very strong and warp-proof wood but also very lightweight making it ideal for ceiling fans.
The fan is controlled by a 3 speed radio remote control with on/off and can also be run via a wall switch and control.  The Aeolus motor has a Lifetime Warranty. Variations of the Aeolus are proving very popular in many countries due to its quality and value.  Just compare the quality, design, reliability and performance with other fans for this price.
Greek God Aeolus – King of the Winds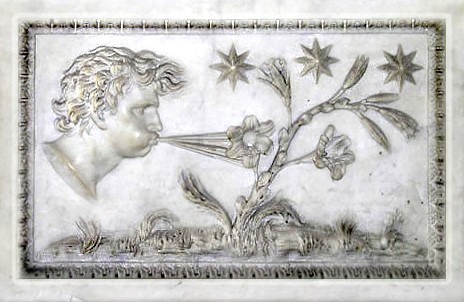 The Henley Aeolus ceiling fan is our latest own brand fan in the Greek wind gods range.   The Greek god Aeolus was the divine master and keeper of the seasonal winds and king of the mythical, floating island of Aiolia (Aeolia).   He was a son of Poseidon who lived on the floating island of Aeolia and gave shelter to Odysseus for a month during the Odyssey. He kept the violent Storm-Winds locked safely away inside the cavernous interior of his isle, releasing them only at the command of greatest gods to wreak devastation upon the world.
When Odysseus departed, Aeolus provided a west wind to take him home, and also gifted him a bag containing all winds but the west wind Zephyrus.  Interestingly, Kew Gardens in London has a folly named Temple of Aeolus originally built in 1763 by the 18th century Scottish-Swedish architect Sir William Chambers.
Where the Aeolus Fits in Our Range
The addition of the Aeolus means our designer ceiling fan range now starts at £399 making it more affordable for a lot more people.  For a little bit more around £500 you can get a DC solid wood designer eco low-energy ceiling fan such as the MrKen Solid Wood or our own very popular Zephyr which has many finishes.
DC fans convert the mains AC voltage into DC in the controller where it is made into a more efficient wave-form and then converted back into AC to feed the motor.  They are precisely controlled and have 6-speeds saving 50-70% of the energy and so can just be left running all the time.
Move up a bit more to £600-650 and you can get the Zephyr Propeller or the favourite choice of Hollywood the £600-£700 Matthews DC fans which are DC too. in the £800-900 range sits the up-market Californian brand Minka Aire and the Artemis model. Obviously the more you invest the better the materials, build quality, design and efficiency.  The Aeolus however is a wonderful and beautiful solid wood blade AC designer fan for those with more limited budgets.
Henley Aeolus Ceiling Fan Finishes & Sizes
It is available in the following finishes of housing and blades. The blades can be mixed and matched.  Click the selection boxes above to see the valid combinations of the following:
Matching housing canopy, drop rod and cover plate metal finishes – Brushed chrome or oil rubbed bronze.
Blade size – 52″/132cm diameter blade sweep
Blade finishes – natural light wood and walnut treated
Longer drop rods – Available in 24″/61cm and 47″/120cm in all housing finishes, see separate listing.
Features & Benefits
Beautiful stunning natural style and finish.
Breeze assured – 100% laminar flow from slow rpm with no uncomfortable turbulent airflow.
Silent powerful motor with very little airflow noise – perfect for low speed in bedrooms where you hear every tiny noise.
3 Non-warp solid strong sycamore wood finger-jointed milled and hand-balanced blade sets.
Remote control included – 3 speed.
AC Motor reversible – for winter heat savings with switch on canopy.
Short drop rods x 2 and mounting kit included – Total drop from ceiling to bottom of blades is 13.4″/34cm or 11.2″/29cm depending on drop rod used.
Balanced motor and blades to avoid wobbles.

Blade pitch 13° to ensure most effective air movement.
Weight 7.5 kg.
Light kit adaptable – No.
Voltage 240V – 50 HZ.
Max airflow rate: 13,600 m3/h = 8,100 cfm
Max power and speed = 57 W at 184 rpm.
Min motor speed power consumption 9w.
Max angle for sloped ceilings is 18°.
Wall control – not included but can be run from one.
EC, CE and German GS certifications.
20-Year Warranty on motor, 1 year on the remote control and rest of the fan.
More Information
Delivery is by next-day courier in the UK (free) and mainland Europe (£16).
Download the Henley Aeolus Ceiling Fan – Installation Manual.