Description
MrKen Ceiling Fan Extension, Drop or Down Rods

These drop rods are for use with the MrKen ceiling fans with the exception of the Helicopter fan.  Drop rods are often called extension or down rods. They are important as they bring the ceiling fan down to the correct height and also to look good.  The correct and most efficient operation which is about 8ft/2.5m height above floor level. The length of the drop rod will be determined by the ceiling type, it's height and the drop of the fan.  If your ceiling is above 8ft then the use the sizing guide below to see what length of drop rod is needed.
If your ceiling is lower than 8ft then use a flush mounted ceiling fan instead of the short drop rod that usually accompanies most ceiling fans.
Ceiling Fan Extension Rod – Mounting & Sizing Guide
Use the handy sizing guide diagram to work out what size of drop rod you need for your room.   Also make sure that you pick the right ceiling fan for your ceiling type so if it is low then get a flush mount type of fan (often called "hugger") or a fan that can be mounted on a sloping ceiling (note that typically ceiling fan mounting systems will permit an angle of up to 20 degrees.  Any steeper will require a wooden block or cross member to accommodate.  Most drop rod style ceiling fans come with a small 12″/30cm drop rod to bring the blades just clear of the ceiling.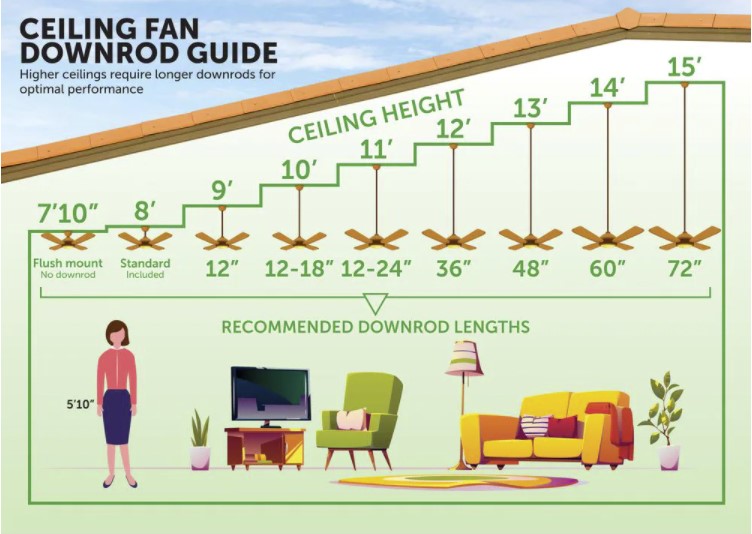 Wobbling Ceiling Fans
If the fan blades and motor are properly balanced then there should be no wobble even with a very long 72″/183cm drop rod – again it is not uncommon to see wobbling fans even with short drop rods!  Fans placed near the top of a high ceiling where no drop rods have been used – as seems to be the case in many large retail outlets and airports – are achieving nothing and a pointless waste of money.  Use a blade balancing kit which has small lead weights to balance the blades ( a bit like they use on car tyre balancing).
Drop Rod Wiring
The 3 wires carrying power and control signal (if you are using a wall control) to the fan (and a forth black wire for the light if used) are carried within the drop rod so beware that they will need extending if you use a drop rod longer than 12″ drop rod that comes with the fan.  Extension wiring looms are not  included but can be wired using any AWG 18 mains voltage cable.  These will need to be connected using standard electrical connectors eg Wago.
Availability  & Finishes
We keep limited stock so please call our office for availability on the size and finish that you need before ordering.  The rods can be cut-down to size if needed but note that a new hole for the pin will need to be drilled. We have the following finishes:
Brushed nickel
White
Black
Note:  Due to the high handling and shipping costs these sizes are only available as a special orders.  This means that they cannot be returned so double-check that you require them before ordering.