Description
Hunter Lugano – Beautiful Italian Style
The Hunter Lugano fan is part of the Hunter Europa range of fresh sleek contemporary designs specifically for the European market from Hunter's Italian chief designer.  It's blade irons are cleverly integrated into the motor body with great style adding a continuum to the curves and also features a halogen light and a 3-speed convenient wall control.
This fan has the powerful AirMax Hunter motor giving it a large air movement making it particularly suitable for bars, clubs, restaurants and gyms where a lot of heat is generated. The images show the restaurant/diner/bar in the Hertford House Hotel which used to get extremely hot in the evenings before the fans were fitted despite having air-conditioning.  The fans solved the problem by moving the hot air out of the congested bar area.
The Lugano comes with all the famous benefits of a quality Hunter ceiling fan.
Features & Benefits:
– 52″/132cm Diameter blade sweep
– Finishes: white with white/maple blades, satin metal with dark walnut/satin blades or brushed nickel with maple/grey blades
– 5 x Reversible furniture grade non-warp plywood blades
– 240V-50HZ
– Control – Wall control for 3-speed operation included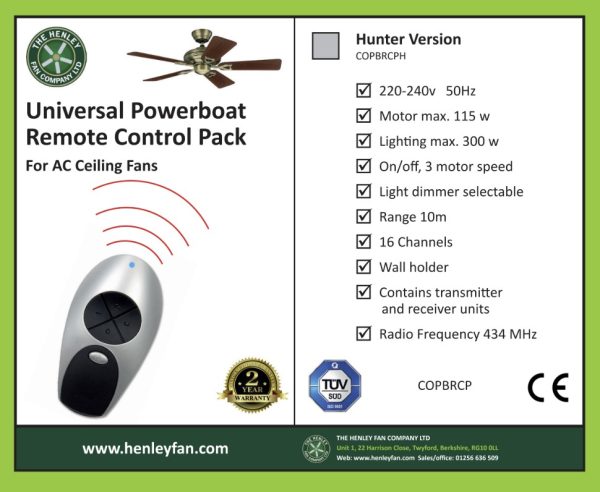 – Remote control – Can be used instead, order the Henley Powerboat Remote Control Pack
– Patented high performance AirMax motor.  "Quiet for life" ball-bearing, lubricated for life and self-cooling motor, dynamically balanced, with thermal overload protection for whisper-quiet running
– Protection – class I, max. Ambient temperature 45 ° C. Interference suppressed
– Wobble free canopy hanging system with self-aligning ball to automatically eliminate wobble
– Mounting options –  standard & angled (up to 16° angle)
– Max power consumption 85 w
– Integrated light requires a JD E14 100W halogen bulb (not included see Accessories)
– Weight 10.8 kg
– Air movement 15,200 m3/hr = 8,941 cfm
– Reverse function for winter heat savings
– Highest speed 170 rpm
– Lifetime motor warranty
See Hertford House Hotel restaurant full photoshoot